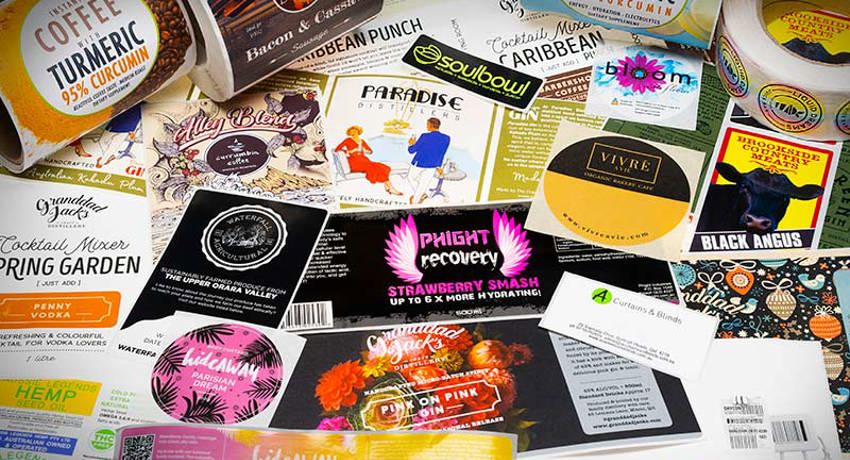 Why should you partner with Daycon for manufacture and supply of all your labels and stickers?
Date: 08-Mar-2022
Daycon are an Australian based quality, service-focused label manufacturer. We have worked closely with our clients to elevate their brand awareness through our consistent delivery of outstanding label solutions, within budget and on time, every time.
You need your labels and stickers to stand out from the crowd. The labels need to give your brand the quality it deserves, and we would like you to work with us to give you the perfect outcome.
Custom Labels
Your customers see your labels and stickers before anything else, so your labels need to immediately set your product or service apart from the competition. From shipping labels to wine, food, beer, honey, chemicals or barcodes, our friendly, helpful team works closely with you from concept to production to deliver the ideal labels and stickers solution for your brand.
Daycon's team of experts can help you create your unique custom labels that will represent your brand in the best possible way. With your Daycon supplied high-quality, durable labels and stickers, your customers will feel like they're getting something special from you. They'll know that you put thought into every detail – right down to the labels on your products.
Food and beverage labels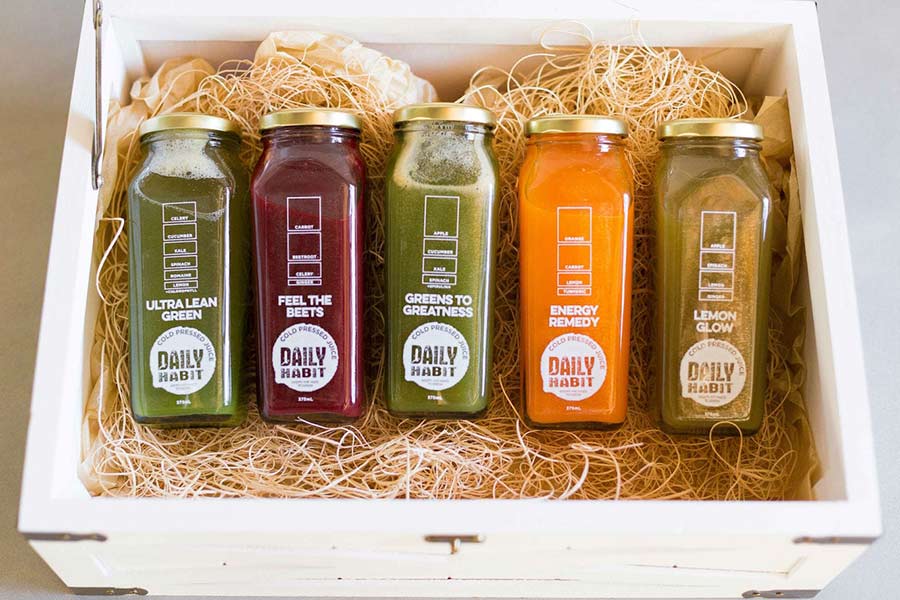 Food labels are important for many reasons including the primary reason that they identify your brand. Other information is often displayed such as product use instructions, storage instructions, ingredients, barcodes, country of origin information, and more than often, nutritional information. Labels also need to be fit for purpose should the product require refrigeration, freezing or a long shelf life.
Quality food labels can make the difference between people glancing past your products or capturing their attention to result in a successful transaction.
You need a reliable source for your quality food labels, but you also need one that offers high-quality labels that will adhere to the glass or product container and last the full product life. Having a well-designed and easy-to-read label will help in your product presentation and make your brand stand out and easily identifiable.
Blank Sticky Labels
Daycon manufactures blank labels in a huge variety of materials and adhesives that have many uses. Options include an extensive selection of papers, polypropylenes, and synthetics, matched with permanent or removable adhesives. We also manufacture labels using specialty papers suitable for refrigeration and freezing.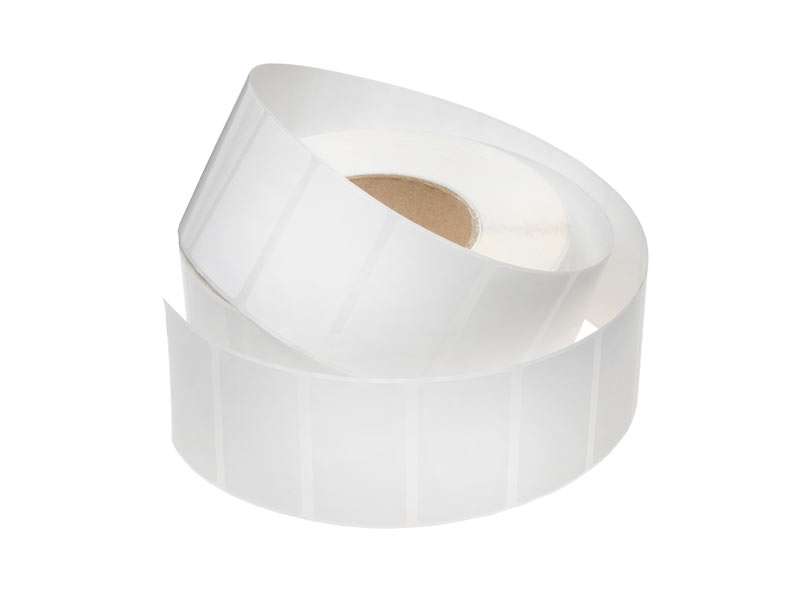 From manufacturing blank labels for over 30 years, we have the experience and knowledge to provide you with the perfect label for your needs. Whether you need a specialty paper or a specific adhesive, let us accommodate your label requirement. We can make your labels for overprinting in any size, shape, add perforations, creases or registration marks for high-speed printers. Our high-quality blank labels are perfect for any application, and you can trust that our labels will meet your expectations – and exceed them.
Die Cut or Butt Cut Labels
Looking for labels that are die cut or butt cut, or not sure of the difference between these two types of labels? We can help supply the correct label for your needs.
Die Cut
Labels have the paper waste (or paper web) surrounding the label that is stripped as the labels are manufactured. Die cut labels can be blank, printed with any base colour, or have your branding or creative added to all or part of the label design. We manufacture millions of die cut labels each year, produced on rolls usually for overprinting in-house with variable information or for high speed applicators.
Butt Cut
Labels are made by cutting off the waste area around the edge off the label and leaving it attached at one end. This is done so that they can be easily peeled from their backing paper.
Butt cut labels often need print registration marks and notches. Complex or simple, your artwork will be created to your specification for your approval prior to manufacture, enabling us to create the labels to your exact requirement.
Still not sure which type of label you need? Let us help!
Your Direct Thermal Labels or Thermal Transfer Labels
We offer the best direct thermal and thermal transfer labels in the industry. Our wide range of quality papers and synthetics, matched with permanent or removable adhesives are perfect for in-house and on demand printing for all your retail, logistics or office label needs. Depending on your application, ask us about which type of thermal label is best suited for your specific needs.
Thermal Transfer labels
Thermal transfer labels are produced using a thermal printer with a ribbon, resulting in higher quality and a sharper print image. For this type of printing, we use and recommend quality papers and synthetic stock. Thermal Ribbons are available in various colours, not just black. Let us quote and supply your thermal ribbons.
Thermal transfer printing provides longer lasting images for applications such as food labels for fridge or freezer, production identification labels, barcode labels, chemical or asset labelling, healthcare and retail labels.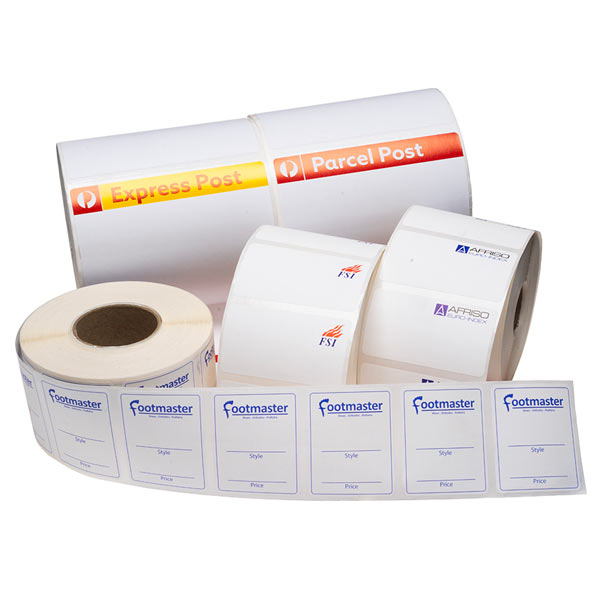 Direct Thermal Labels
Direct Thermal Labels are produced using direct thermal printing, which requires no ribbon. This type of label printing is cost-effective and ideal for short term use, such as shipping, freight, warehouse, or price labelling. Both are available in permanent or removable adhesive, depending on your application, and direct thermal synthetics can be used for chilled and frozen foods where there is exposure to high levels of moisture.
Barcode labels
Barcodes facilitate improved productivity and accuracy at a relatively low cost compared to human data entry on a keyboard. They are a simple, convenient way to register and track items. A barcode is made up of a combination of letters and numbers represented by bars of varying width. The barcode can be scanned and is connected to a database, so that when it is scanned, information can be accessed about the item, product, or other stored data. A barcode scanner reads the width of the bars and the spaces in a barcode to reveal the data embedded in that barcode.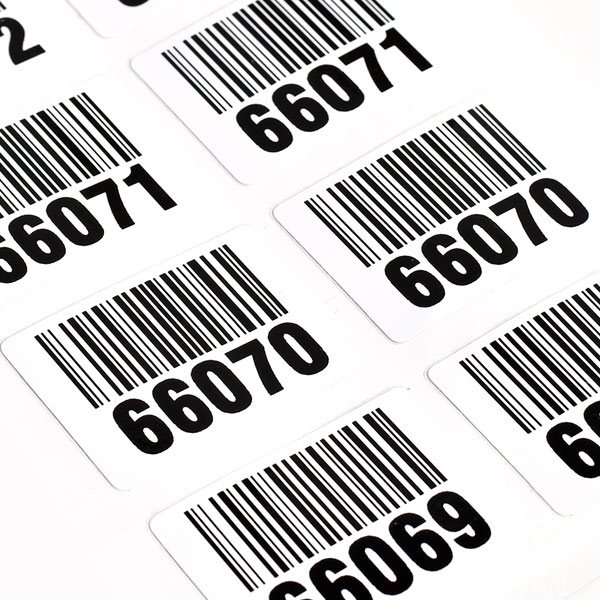 We can help you with any barcode label symbology and label material types, to produce quality output – for any industry grocery, medical, asset, warehousing, or sequential numbered barcodes. Barcode labels can be printed onto plain white or coloured backgrounds, with or without your branding, and depending on where the barcode label is to be adhered, the life requirement of the label, you can choose from different types of adhesives.
We also can verify your barcodes and to eliminate the possibility of any scanning issues once they are printed.
Country of Origin Labels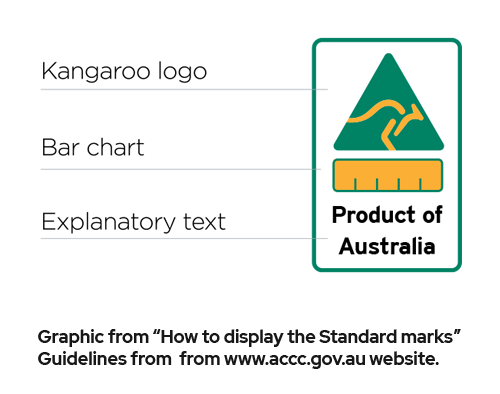 You need to ensure your Country of Origin labels comply with Australian legal requirements. More information about Country of Origin Labels can be found on the https://www.accc.gov.au/publications/how-to-display-the-standard-marks website. When it comes to the design of these labels, the country of origin 'standard mark' guidelines must be adhered to in regard to use of the logo (green and gold triangle with kangaroo), use of the bar chart in regard to shading and colour, distorting elements and text rules.
Your labels must clearly show whether the food was grown, produced, made or packed in Australia or another country. This includes items such as tea, coffee, alcoholic drinks, bottled water, seasonings, honey, confectionery, biscuits and snack foods, soft drinks and sports drinks, and more.
You can be confident Daycon can help you though the print requirements, as we've printed many Country of Origin Labels for use on food and drinks. Your artwork will be presented to you prior to label manufacturing for your approval.
Working with you
With us as your partner, you won't ever have to worry about running out of stock on important supplies again. We offer fast turnaround times and great customer service – all at affordable prices.
Our team will work with your specifications to ensure we provide exactly what you're looking for in terms of quality, quantity, and turnaround time. We'll also make sure our prices are competitive, so you get an amazing deal on all your labelling needs.
10 reasons you should partner with Daycon for manufacture and supply of all your labels and stickers
Elevate your brand
Friendly professional service nationally since 1989
Deliver outstanding label and sticker solutions
On time and on budget
Dedicated experienced team
Australian owned and operated
We are the business owners and we work in the business
Stress free supply
Exceed your expectations
Right, first time, every time
Get a quote
Back to list