Ensure your Country of Origin labels comply with legal requirements
We print clear, easy-to-read labels which help you comply with the Australian Consumer Law's Country of Origin labelling requirements, conveying the right information to the consumer.
Did you know?
If you're selling packaged food items in Australia, chances are, you need Country of Origin labels for your products. As of 1 July 2018, these labels became mandatory under Australian Consumer Law.
Your labels must clearly show whether the food was grown, produced, made or packed in Australia or another country. This includes items such as tea, coffee, alcoholic drinks, bottled water, seasonings, honey, confectionery, biscuits and snack foods, soft drinks and sports drinks, and more.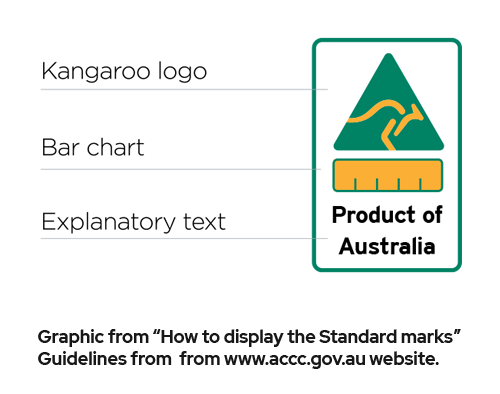 Click here for accc.gov.au website
FAQ about Country of Origin Labels
Does country a of origin label need to be on packaging in Australia?
In Australia, the Country of Origin Food Labelling Information Standard 2016 (Standard) regulates the Country of origin information that must be provided for most food that is offered or suitable for sale. If you are a retailer, producer, manufacturer, processor, or an importer, you can learn more about your obligations from the ACCC website here
Do I need a Country of Origin label?
In Australia you are required to display a Country of Origin label to show where a product was made, grown, produced, packed or from which country it was imported. If you are selling food products in the retail sector, it mostly will most likely require a Country of Origin Food label.
What is a Country of Origin Label?
A Country of origin food label can be found on many edible products and can help consumers find out which country where a product originates. If your business is a supplier of food for retail sale in Australia, the Australian New Zealand Food Standards Code may apply to your products. There are many guidelines on what your label should say which can be found here https://business.gov.au/